Welcome to Idaho's Premier Garage Door Company,
"Coeur D' Alene Garage Door Co"
Industry best lead time 2-3 Weeks!
We can accommodate almost any variation of window placement, additionally, all windows are double-pane glass for added insulation value.
All of the hardware we use is a premium grade, that will provide you years of durability and performance.
We are the direct distributor & installer of locally manufactured Steelhead Garage Doors. All of our Garage Doors are built with layered steel and an insulated core that provides R-11 insulation value. In addition, every door is 100% customizable to fit virtually any sized opening, any color combination, and any window placement. Also, every window frame is made of painted steel, making the frame much more resistant to fading and cracking.
Very Smart! Switched on or switched off — Smart Glass goes from transparent to opaque with the flick of a switch, providing privacy on demand. Switchable PDLC film is applied to the existing glass while the switchable glass is installed just like regular glass. Smart glass products are manufactured locally in North America, allowing us to control quality while keeping lead times and costs to a minimum.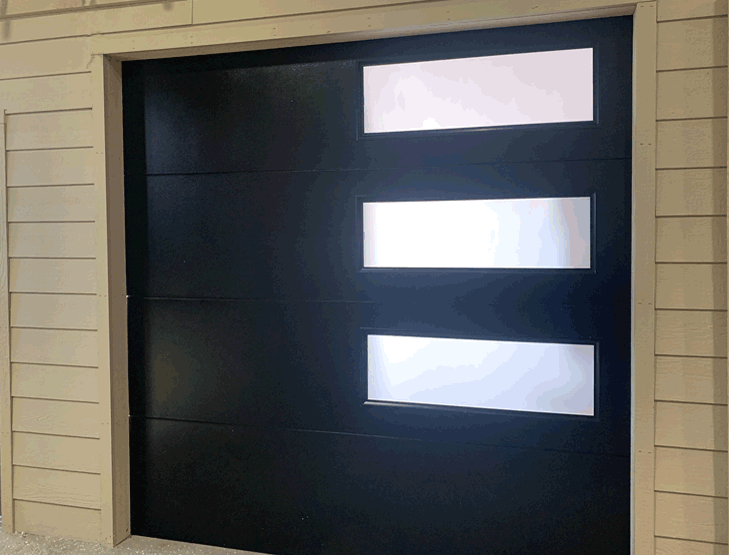 Built To Last a Lifetime
Each Steelhead garage door is hand-made and comes with a fully insulated core rated to R-11 Value, with standard steel-backed construction providing unmatched security and comfort.
Smart and Secure Openers
Wall mount design frees up ceiling space in your garage, reduces noise and vibration.
Built-in Wi-Fi® allows for smartphone control with the myQ® app.
Battery Backup allows you to open/close your door even when the power is out.
Includes myQ Remote LED Light featuring 1,500 lumens.
Automatic Garage Door Lock deadbolts your door after closing.
Works with Amazon Key: Enables convenient and secure In-Garage Delivery.